Reuse and Remake: 10+ Upcycled Brands doing their part in Waste Reduction.
▽
these aren't your grannies' craft projects. Check out these brands elevating the upcycle game. Environment and closet approved.
Christopher Ræburn has established his eponymous brand with sustainable and intelligent fashion design for a global audience. The REMADE ethos in particular has pioneered the reworking of surplus fabrics and garments to create distinctive and functional pieces.

The REMADE Studio in Hackney, London was previously home to the Burberry Textile factory and is increasingly used as a platform to host a wide variety of workshops from open studio days for the local community to more advanced workshops where attendees are invited to design and customise their own tote bags using off-cuts from the atelier.
In 2010 Broth launched the "Old jeans-new piece" line made by upcycling old denim creating unique pieces that transcends time and style.
T&J Upcycling: Re-Designing Expression became a living entity over a year ago. With their emerging idea to reduce waste and reuse old garments, giving them a new purpose, style, fashion, this business was born. When we speak about changing the fashion industry, it sounds a bit extreme, however that is exactly the vision, through up-cycling and merging fashion, style with re-designing already used pieces/garments into something different and new, we want to impact and save the world, in style.
Cotswold-based brand Madia & Matilda is a unique luxury clothing label, specializing in upcycled and sustainable fabrics. Founded by Shalize Nicholas in 2013, Madia & Matilda explores all elements of crafts and design and create bespoke styles.
Kitty Ferreira uses upcycled and hand dyed fabrics with pomegranate and onions skins. This London-based company is a slow premium and sustainable womenswear brand inspired by founder Valerie Goode's Caribbean roots with a main focus to dispel the 'hippy' connotations of ethical and sustainable fashion, by combining city chic with the natural world.
The brand sources most of their fabrics in the UK, some upcycled and some organic cruelty free silk. The only issue that Goode has with upcycled fabrics (although it being an obvious sustainable use of textiles), is that she cannot trace the origins and the ethics behind that textile. "The value in upcycling has been practiced by our grandmothers long before it became a fashionable term," Goode says.
Using existing fabric is one of the most environmentally friendly ways to produce clothes. The process of designing clothing usually begins with design, but, for Reet Aus, it begins with the materials. She is inspired by the design limitations of upcycling. The colours and textures in leftover fabric are unpredictable. Most of the fabric is small in size, though some bigger pieces do come from roll-ends. But the results are stillclean and the designs are very wearable. Each season, She make a few new styles that can be mixed and matched with the collection's existing designs.
Reet Aus is the lead researcher and designer for UPMADE®. This enables brands and manufacturers to apply their industrial upcycling method and obtain certification. A circular economy produces zero waste and pollution, by design. It is an ideal that the UPMADE® method supports in a real and practical way. Traditional clothing manufacturing creates an average of 18% textile leftovers. Their method closes the loop by applying upcycling on an industrial scale and reducing the amount of textile leftovers. Thanks to this, that 18% can now be turned from cost into value.
American DeadStock - New York
Their mission is to resurrect vintage deadstock apparel and accessories from decades past and bring them to you with love and minimal packaging. Inspired by 80's, 90's +, American Deadstock is a cool throwback to the 90's rave club kid culture. Full of fun surprises and larger than life personalities
At tonlé, we see fashion differently – from the way it's made to the way it's worn. We see it as encouraging the unique in everyone who touches our clothing, from maker to wearer. Our process starts with scrap waste sourced from mass clothing manufacturers. Using every last thread, we create handmade clothing and accessories signed by their Cambodian makers. Our family of employees is made up of individuals with spirit, drive and dreams. Together, we've built a supportive environment where everyone expresses themselves freely, learns new skills, and gains confidence in what they do. We believe style is more than what you wear – it's what you choose to be a part of. When you buy tonlé, you're buying one-of-a-kind clothes that carry meaning across cultures and continents.
People Tree purchases the majority of its Fair Trade products from marginalized producer groups in the developing world.
They also guarantee most of our purchasing is committed to the World Fair Trade Organization and Fair Trade standards with a priority to support producer partners' efforts towards economic independence and control over their local environment and community.
People Tree is proud to work with certified producers and their supply chains from the raw material to the finished fabric and garment. To be certified means that our textile products have been produced in factories adhering to strict environmental and social standards. Certification organizations are responsible for ensuring that these standards are followed and respected. If a brand or producer is certified, it ensures that they are environmentally friendly and social responsible.

Fadeout - Berlin, Germany
FADE OUT is a unisex line of exclusive clothing and accessories made from deconstructed vintage using handicraft methods, where the patina of used material recombined in a fresh and different way creates new unrepeatable alchemies. FADE OUT embodies a dump-to-hanger ethos and celebrates responsible recycling of materials and innovative designs.
We do not believe in the timelines of the fashion system but in timeless creativity and in the originality of every single idea and item. We therefore create permanent collections to which new items are added every season. We create comfortable, unisex garments, which due to the use of recycled material become hand-crafted one- offs, repeatable but always different.
All FADE OUT items adapt to various occasions and to different personalities due to their simple yet well studied oversized fit. The originality of our idea and our handicraft approach to both the creative process and the production itself outdare the overproduction, conformism and exploitation of present day's fashion system. FADE OUT's belief in sustainability of both material and actual production leads us to a direct relationship to our costumers, which allows custom- tailoring and made-to- measure garments.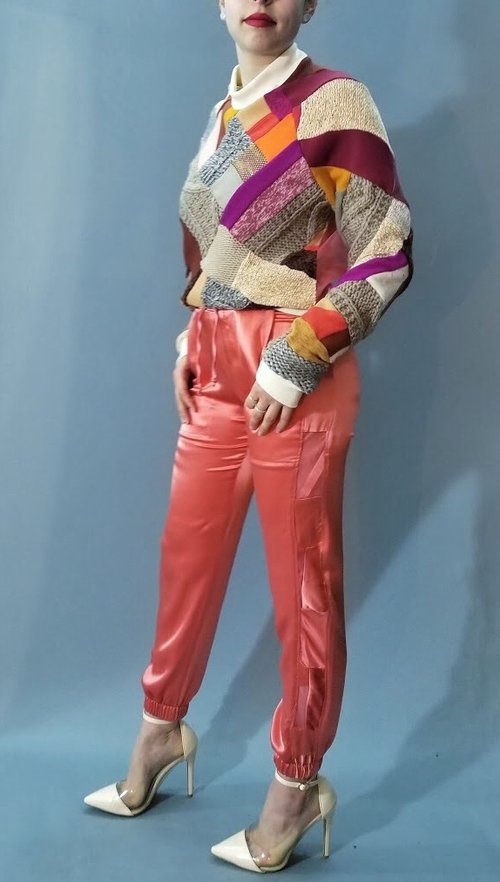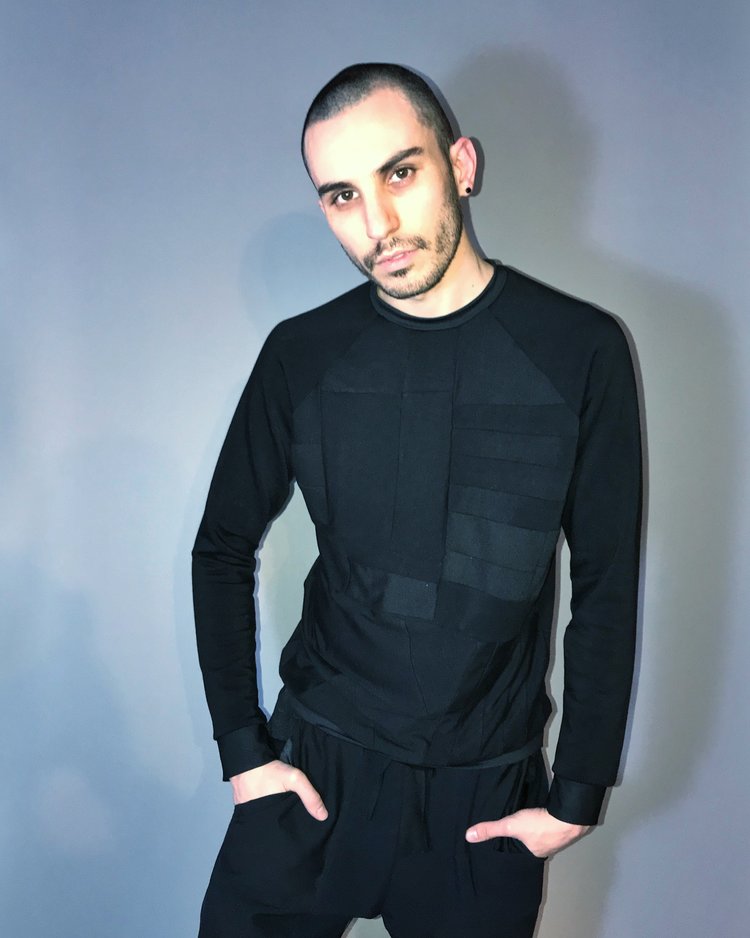 every Zero Waste Daniel product is made using a closed loop production system and technique called reroll. He is also a co-founder of the Package Free Shop in Brooklyn.
Shop in person:
ZERO WASTE DANIEL
369 hooper street
brooklyn ny 11211
From the outset Jane has been a pioneer in sustainable fashion and has spoken at various high profile industry events, including the 'High Fashion Low Countries' seminar in Antwerp, Belgium.
Karen Jessen is a Fashion Designer, Pattern maker and Dressmaker, specialized on sustainable fashion. After launching the swimwear label and produces lulu Berlu in Costa Rica, Central America, she studied at ESMOD Berlin.
Always feeling like an outsider, I sub-consciously started creating my own denim army, my gang.
A signature style – upcycled denim patchwork with hand embroidery – was born during a MA Fashion course at Kingston University London, in 2013.
I am interested in the concept of identity,
blending in or standing out?
I also think a lot about the integrity of a garment. I want every piece that I make to feel special, and I would love it if the owner of the garment felt that connection.
The design ethos behind all my work embraces the thought of wearing, loving, caring and mending – turning old into new.
Katy Bell & John Maskell | The Founders
RELATED POST ON ZERO WASTE